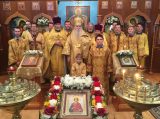 On Friday 5 August and Saturday 6 August we had festive services in anticipation of the feast of our patron saint, the Great Martyr and Healer Panteleimon, on 9 August.  Prior to the services, our small church was beautifully decorated with flowers by Ekaterina Waters.
On Friday evening All-night Vigil with the blessing of wheat, wine, oil and five loaves was served by the rector of the Archbishop's Chapel of All Saints of Russia (Croydon, NSW), Priest Simon Nekipelov, and by our parish deacon, Father Martin Naef.  Joining them for the litia and the polyeleos were our parish rector, Priest James Carles, and Priest Dionysios Halim of Saint John the Baptist Skete (Kentlyn, NSW).
On Saturday morning Father James served the lesser blessing of water together with Deacon Simeon Polorotoff of Saint Nicholas Russian Orthodox Church (Fairfield, NSW).  His Grace Bishop George of Canberra presided at Divine Liturgy, with Father James, Father Dionysios, Protodeacon Constantine Moshegov of Saints Peter and Paul Cathedral (Strathfield, NSW), Father Martin and Father Simeon concelebrating.
In his sermon, Bishop George spoke about the life of Saint Panteleimon and of the need to be whole-hearted and serious in our Christian lives. Following Divine Liturgy a moleben to Saint Panteleimon was served in the middle of the church.  Our choir, strengthened by singers from other parishes who had joined us for the day, sang under the direction of Matushka Marie Carles. Afterwards approximately 120 parishioners and friends from Sydney and Newcastle enjoyed a festive lunch, hosted for the first time at our parish centre in West Gosford.
 View slideshow here
www.gosfordrussianchurch.org.au