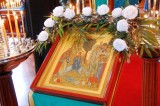 On Saturday and Sunday 7-8 April/25-26 March 2012 His Eminence Metropolitan Hilarion, First Hierarch of the Russian Orthodox Church Abroad, celebrated the All-Night Vigil and Divine Liturgy for the Entry of our Lord into Jerusalem at Saints Peter and Paul Cathedral, Strathfield.
Concelebrating with His Eminence were the clergy of the cathedral and a visiting priest from Georgia.
His Eminence announced that he would remain in Australia for the Feast of our Lord's Resurrection and celebrate the services of Holy Pascha at Saints Peter and Paul Cathedral.
The Midnight Office will begin at 11:30pm on Saturday 14th April followed by the Resurrection Matins and Divine Liturgy from 12:00am on Sunday 15th April.