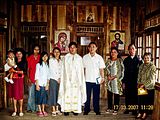 Please pray for the soul of Father Gregory Momongan, a priest of the Indonesian Deanery of the Sydney , Australia and New Zealand Diocese, Russian Orthodox Church Outside of Russia. Father Gregory reposed in the Lord Thursday, February 21, at 11:30 pm local time. Father Gregory was priest in charge of St Mary the Theotokos (Nativity of the Theotokos) Orthodox Church, Manado City in North Sulawesi Province, Indonesia.
Father Gregory was hit by a truck on Wednesday February 20, a victim of a hit and run accident, while operating his motorcycle, which he used as a taxi in downtown Manado City . He had a mechanical problem with his motorcycle and pulled over to the side of the road where he was hit by a speeding truck that was attempting to overtake another vehicle. People who rushed to Father's aid were able to contact his family from the information of a billing statement which they found in his pocket.
Archimandrite Daniel – the Dean of the Indonesian Clergy and founder of the Indonesian Orthodox Church – had repeatedly asked him to stop working as a motorcycle taxi driver, given the dangers of driving a motorcycle in a congested urban area, but Father Gregory felt he had no choice, as he had no other way to provide for his family. Once an Orthodox Christian is ordained as a clergyman in Indonesia , they are "marked" in that overwhelmingly Muslim society, and are not allowed the opportunities for employment and advancement that most other Indonesians enjoy.
Father Gregory was left in a coma by the accident, and first taken to the hospital in Bitung which did not have the facilities for the surgery required. Because of the extent of his injuries, Father Gregory was transferred to Malalayang Hospital , a one and half hour drive from Bitung. His family were devastated because they did not have money to pay for the hospital fees. Finally they contacted his godfather in Jakarta , David Rungkat, who immediately arranged for the money to be transmitted to the hospital so treatment could commence. However, Father's injuries were so severe, internal bleeding of the brain, that death was inevitable and he reposed late on the evening of Thursday 21 February without regaining consciousness.
Hieromonk Ioasaph, from St Vladimir's Church, Jakarta travelled to Malalayang to prepare Father Gregory's body for burial.
Father Gregory's funeral took place on the afternoon of Sunday 24 February at St Mary the Theotokos Church, Manado. Over 2,000 people attended Father's funeral.
Ordained in 2005, Father Gregory, 32, leaves behind his young wife Matushka Maria and year-old daughter Paskhalita, as well as his parish, St Mary the Theotokos, Manado City, North Sulawesi.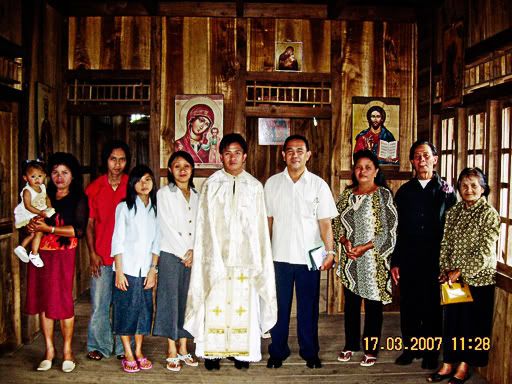 Photo: Fr. Gregory, standing inside St. Mary the Theotokos Parish in Manado, with his wife Maria and some of the parishioners. His daughter, Paskhalita, is on the far left, and his mother and father on the far right.
Father Gregory was the spiritual son of Archimandrite Daniel, the founder of the Indonesian Orthodox Church, and was especially close to Father Daniel, caring for Father Daniel's dying mother for several months while Father Daniel was in the United States and unable to return to Indonesia.
There is a pressing financial need to pay outstanding hospital bills, funeral expenses, and to make some long-term provisions for Father Gregory's wife, Maria, and infant daughter Paskhalita. Orthodox Christians in Australia are asked to help Matushka Maria and her daughter as they face a very uncertain future, and to make a financial donation for them in their time of need.
All donations will go directly to meet these needs and this is a wonderful opportunity to reach out to our Orthodox brothers and sisters in Indonesia , with a generous gift of love.
If you're able to assist, please send your donation by cheque or postal order payable to "Australia and NZ Diocese ROCOR – Father Gregory appeal" and post to:
Sydney, Australia and New Zealand Diocese
Russian Orthodox Church Outside Russia
20 Chelmsford Avenue
Croydon NSW 2132
AUSTRALIA
Please pray for the soul of God's priest and faithful servant Father Gregory Momongan and for Matushka Maria and her daughter Paskhalita and have them commemorated at the Divine Liturgy. Please also pray for Archimandrite Daniel, who has lost a spiritual son and close friend, and the clergy and faithful of the entire Indonesian Orthodox Church.
May the Lord have mercy on us sinners.
Source: Friends of Indonesia