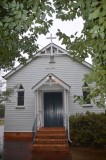 Thanks be to God, the Orthodox Outreach Program of Holy Annunciation parish in Brisbane continues to grow with the celebration of our first Divine Liturgy in Toowoomba on Sunday 26 July, 2015.
With the blessing of His Eminence Metropolitan Hilarion, Fr Andrew Smith (assistant priest at Holy Annunciation) led a Reader's Vigil on Saturday 25 July and the Divine Liturgy on Sunday 26 July at the historic Anglican parish of All Saints.  He was joined by local parishioners from Toowoomba and the Darling Downs, and by a number of people who travelled from Brisbane for the occasion. Approximately 20 people were present for the services.
Toowoomba is Australia's second-largest inland city and currently does not have a permanent Orthodox parish. Our first outreach vespers service was initiated by on Saturday 27 September of 2014 with the visit of Fr Alexander Borodin, and since that time, lay reader's Vespers services continue to be regularly led by a local member of the community, Mr Erich Fein on the first and third Saturday of the month at the University of Southern Queensland's Multi-Faith Centre.
God willing, we look forward to celebrating these services each month – serving the Vigil on the Fourth Saturday of the month, and the Divine Liturgy on the next day.  These services will continue to be complemented by the readers services that are being served twice a month at the USQ's Multi-Faith Centre. Our proposed schedule of services is available for download from this website: https://orthodoxtoowoomba.wordpress.com/
Our community welcomes all Orthodox Christians, and all those who wish to be a part of the historic Christian faith, to join us at these services.