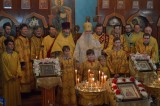 On Sunday 9 August 2015 Saint Panteleimon parish in West Gosford, NSW, celebrated its annual parish feast day.
The Divine Liturgy was celebrated by His Grace, Bishop George of Canberra, together with the rector Priest James Carles, parish deacon Father Martin Naeff and visiting clergymen.
Afterwards, a lunch for all attending was organised by the parish sisterhood at a nearby hall in East Gosford.