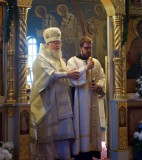 On May 10, 2016, the feast of Radonitsa, His Eminence Metropolitan Hilaron, The First Hierarch of the Russian Church Abroad paid an archpastoral visit to Holy Trinity Monastery in Jordanville, NY USA.
During the reading of the Hours, Metropolitan Hilarion tonsured seminarian from the Australian and New Zealand Diocese Michael Storozhev a reader and ordained him a subdeacon. Following the Eucharistic Canon, subdeacon Michael was ordained to the diaconate.
Deacon Michael is assigned to Sts Peter and Paul Cathedral, Strathfield where he will fulfil his diaconate duties.