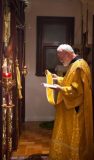 On 16 August 2016 Protodeacon Christopher Henderson reposed to the Lord.
Please find below Father Christopher's biography and information regarding his funeral details.
Christopher Henderson was born in Carlton, NSW, on 20 November 1942.  After secondary studies at Canterbury Boys' High School he studied Optometry at the University of New South Wales, graduating in 1965 and establishing a practice in Liverpool, NSW.  In 1965, he also married Julie Ann Piddington.  In time they would have four children: Danielle, Rodney, Emma and Kate.  A Fellow of the Australasian College of Behavioural Optometry (ACBO), he had an eminent career, lecturing in his field of expertise in the United States, Europe, Australia and New Zealand, whilst also maintaining busy practices in Sydney and the Blue Mountains.
A Christian from his youth up, a chance encounter with an Orthodox priest ultimately led him and his family to embrace Orthodox Christianity in the 1980s.  Ordained to the diaconate by Bishop Gibran (Ramaloui) of the Antiochian Orthodox Church in September 1993, Father Christopher would go on to serve the Orthodox Church in this capacity for over 20 years.  After his reception into the Russian Orthodox Church outside Russia in November 1995, he established the Holy Cross Australian Orthodox Mission and served in the parishes at Fairfield, Croydon, Centennial Park and Kentlyn.
For his service to the church he was awarded the double orarion in 2001, raised to the rank of protodeacon in 2008, and awarded the kamilavka in 2012.  A devoted husband and father, Father Christopher was well-known for his missionary zeal and his love for the saints of the Orthodox West.  He did much to assist the work and the clergy of the Indonesian Orthodox Mission.
After retirement he had the great joy of visiting the holy places of the British Isles, Ireland, Turkey and Jerusalem.  In his final years he served at the English-language parish of the Archangel Michael in Homebush, NSW.  Father Christopher reposed on 16 August 2016, surrounded by his family and friends from the church community.  He is survived by his wife, Julie, by their four children and their spouses, and by four grandsons.  May his memory be eternal!
The funeral of Protodeacon Christopher Henderson will be served at 9.30am on Saturday 27 August 2016 at the Saints Peter and Paul Diocesan Cathedral, Strathfield, NSW.  Burial will take place at the Rookwood Cemetery at 12.00pm.  An informal wake will be held in the school building in the Strathfield Cathedral grounds at 1.00pm.