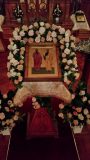 On Monday the 11th and Tuesday 12th July 2016, the feast day of Holy Apostles Peter and Paul, divine services were held in the Diocesan Cathedral, Strathfield NSW in honour of the parish's feast day.
The All-Night Vigil was led by His Grace Bishop George of Canberra joined by Archpriest George Lapardin Dean, Saints Peter and Paul Diocesan Cathedral (Strathfield, NSW), Archpriest Nikolai Cleric, Serbian Orthodox Church, Priest James Carles Rector, Saint Panteleimon Church (Gosford, NSW), Priest Dionisy Halim Cleric, Saint John the Baptist Skete (Kentlyn, NSW), Hieromonk Philip (Balingit), together with Saints Peter and Paul Diocesan Cathedral deacons, Alexander Kotlaroff, Constantine Moshegov and Michael Storozhev.
The following day, the Lessor Blessing of the Waters was performed by Fr James Carles, Protodeacon Constantine Moshegov and Deacon Michael Storozhev. At 9am the above mentioned clergy along with Archpriest Ljupco Dvojakovski Cleric, Saint George Church (Carlton, NSW), Hieromonk Dorofei (Urusov) Cleric, Our Lady of Kazan Convent (Kentlyn, NSW), Priest Alexander Korjenevski Rector, Saint George Church (Carlton, NSW), Priest Simon Nekipelov Rector, Archbishop's Chapel of All Saints of Russia (Croydon, NSW) and Priest Samouil Vishnevskii Rector, Protection of the Mother of God Church (Moscow Patriarchate) (Blacktown, NSW) greeted His Grace Bishop George.
During the 6th hour, Bishop George awarded Mark Alalikin and Anthony Kotlaroff the right to ware the orarion for their knowledge in the hierarchal service, then The Divine Liturgy commenced. The Cathedral was full with the faithful and the choir lead by Andrei Laptev sang reverently.
Due to the church hall being under construction, a lunch was held in the Russian School building for all the clergy and their families, the parish council and the choristers.