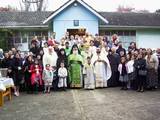 On Sunday 1/14 June, the Feast of All the Saints, His Eminence Metropolitan Hilarion served Hierarchical Divine Liturgy at the old monastery Church of All Saints, Kentlyn. The church is part of the original building of Our Lady of Kazan Monastery at Kentlyn. The congregation at All Saints worships in English and is served by Hieromonk Joachim, superior of the neighbouring St John the Baptist Skete.
Serving with His Eminence on Sunday were Hieromonk Joachim, Archpriest Vladimir Boikov (visiting from Auckland, New Zealand), Father Seraphim Slade, Protodeacon Christopher Henderson, Deacon Constantine Tzortzis and Deacon Adrian Augustus. During the Small Entrance His Eminence ordained Deacon Father Constantine to the rank of Protodeacon in recognition of his long service to the Skete congregation worshipping at All Saints.
Among the more than 120 worshippers were Abbess Maria and the sisterhood of Our Lady of Kazan Monastery, and Abbess Anna and Mother Christina from the Presentation Sisterhood of Bungarby. Parishioners and worshippers came from all over Sydney, and as far distant as Gosford, Bowral, and the Blue Mountains.
Following the Divine Liturgy a Molieben and Cross Procession in honour of all the Saints was held.
With the permission of the Brotherhood of the Holy Cross a festal trapeza was held in the Community Hall of the neighbouring Kentlyn Gardens Retirement Village where His Eminence, the visiting clergy and monastics, and over 100 of the feast day congregation were catered for by members of the Skete congregation.
The brotherhood of St John the Baptist Skete and congregation have been worshipping in the old Church of All Saints at Our Lady of Kazan monastery pending the building of a monastery church for the Skete. With the blessing of His Eminence (then Archbishop) Hilarion, and the late Abbess Evpraxia, Father Joachim began serving in English in All Saints Church on Thomas Sunday, 1999.