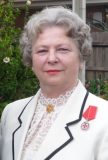 В понедельник, 10 сентября 2018, после тяжелой и продолжительной болезни отошла ко Господу матушка Кира Михайловна Протопопова, супруга митр. протоиерея Михаила Протопопова старейшего клирика Австралийско-Новозеландской епархии.
Отпевание матушки состоится в понедельник, 17 сентября в 10:00, в Богородице-Успенском Храме г. Данденонг.
Епархиальное управление выражает глубокие соболезнования о. Михаилу, родным и близким.
Царствие небесное новопреставленной!
———————————————————————————————————————————-
On Monday, 10 September 2018, matushka Kira Protopopov the spouse of mitred Archpriest Michael Protopopov reposed in the Lord.
The funeral service will be held at Our Lady's Dormition Church, Dandenong on Monday, 17 September at 10.00am.
The Diocesan Administration expresses its sincere condolences to Fr Michael and his family.
Memory eternal to the newly reposed!