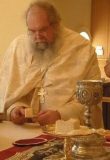 Fr Seraphim Slade fell asleep in the Lord on 25 December 2018 on the feast of St Herman of Alaska and St Spiridon after complications from  surgery for long-standing illness.
Fr Seraphim was, the first Aboriginal man to become an Orthodox clergyman. He worked for many years as a radio broadcaster in regional communities. He also worked in Aboridignal prison ministry since 2004. He was, for many years, a sub deacon in the Russian Orthodox Cathedral of the Protection of the Mother of God in Melbourne. He began missionary work to his own Aboriginal people in March 2008, and later that same year, in Canberra, he was ordained to the diaconate on the parish Feast day of the Nativity of St John the Forerunner (7 July 2008). His diaconate did not last long, as he was ordained a priest soon after. In 2009, he established a chapel dedicated to the memory of St John of Shanghai and San Francisco in his home in Gunning and continued to serve there and in Canberra.
Fr Seraphim's funeral service was held on Friday, 28 December at the Holy Protection Church Cabramatta and the burial at a small humble outback cemetery overlooking fields and a valley  15 minutes outside of Gunning NSW.
May the Lord grant unto him eternal memory and the Kingdom of Heaven!