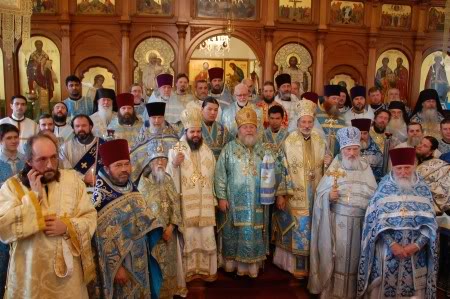 From the moment of his election as First Hierarch of the Russian Orthodox Church Outside of Russia and subsequent move to New York, His Eminence Metropolitan Hilarion makes two trips a year—in summer and winter—to his Diocese of Australia and New Zealand. The worshipers of over 30 churches, monasteries and sketes joyfully await the arrival of their Vladyka. These visits always coincide with a great number of events in the life of the Diocese of the Russian diaspora. Life within the Russian Orthodox community picks up pace in an effort to fit in with the schedule of Vladyka Hilarion.
And so it is during this sojourn, besides festive divine services at SS Peter and Paul Cathedral, the Archbishop's Church in Croydon and Archangel Michael Church, which is celebrating its 50th anniversary, Vladyka also managed to visit those parishes which he did not during his last trip. Vladyka made trips to the convent in Kentlyn, Entrance Into the Temple Women's Skete in Bungarbee, and St Nicholas Church in Adelaide. Ahead lies a trip to New Zealand and Melbourne, where the 45th Diocesan Orthodox Youth Conference will be held. This time, Vladyka will be traveling together with Russia's myrrh-streaming Icon of the Mother of God "Softener of Evil Hearts."
On December 10, an event took place which drew the attention of the Orthodox world far beyond the borders of Australia. This day marked the 25th anniversary of the consecration of Vladyka Hilarion to the episcopacy. In December of 1984, Metropolitan Philaret officiated at the consecration of Hieromonk Hilarion as Bishop of Manhattan.
The celebrations in Sydney began with Divine Liturgy at the Cathedral of SS Peter and Paul, with Vladyka Hilarion concelebrating with Serbian and Rumanian Orthodox bishops and over 20 Orthodox priests of Australia.
That evening, over 350 guests attended a gala event at Le Montage Centre on Parramatta Bay, a riverside venue in Leichhardt. The evening began with a performance by a men's choir under the direction of Andrei Laptev. Later, a women's choir under Maria Okuneva sang for Vladyka Hilarion and the guests, after which the choirs united to sing several church chorales and Many Years for Vladyka. Protopriest Michael Protopopov, Dean of Victoria, opened the ceremony by congratulating Vladyka and reading greetings from Moscow, New York, Berlin and others. His Holiness Patriarch Kirill of Moscow and All Russia sent a congratulatory message as well.
Vladyka was then congratulated by Serbian Bishop Irinej and Rumanian Bishop Michael. Alexander Blokhin, Russian Ambassador to Australia, thanked Vladyka for his work in unifying the Russian Orthodox Churches.
The leaders of Russian societies and organizations of Australia also congratulated Vladyka—St Sergius Society, the Society of the Holy Cross and PineLodge Benevolent Society, "Orthodox Work of Sydney," and Unification newspaper. They noted the wonderful personal qualities of Vladyka, which evoke love and respect from in all who know him and his humanity, openness and ability to resolve difficult problems calmly and in a Christian manner.
Words: Vladimir Kuzmin, Sydney, "Unification"
Photos: Australian and New Zealand Diocese
Video: Alex Avenarius
All Night Vigil (Wednesday 9th December 2009):
Divine Liturgy (Thursday 10th December 2009):
Tonsure of Reader Elias:
Ordination to the Holy Diaconate of Subdeacon Stephen:
Full resolution photos suitable for printing (right click to "Save As"):
"Many Years" video:
Jubilee Dinner at «Le Montage» (Thursday 10th December 2009):