Here is some information about this year's Diocesan Pilgrimage to Russia.
Please do not confuse this with the Kursk Orthodox Youth Fellowship which was announced a few weeks ago!
You would have seen the posters at your parish church or in the Russian Edinenie newspaper. These same posters are here attached for your personal information.
The Diocesan Pilgrimage is open to everyone, but the size of the pilgrimage group will be limited to one tour bus in Russia. For all the relevant information please see the attached posters.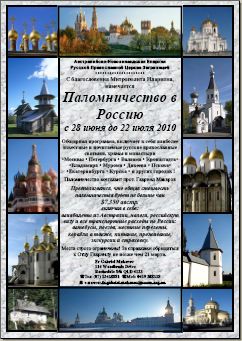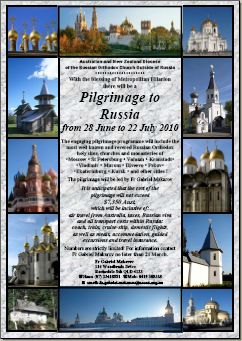 Here are some more destinations and sites included in the pilgrimage programme:
Moscow:
Kremlin churches and sites, Christ the saviour Cathedral, Tretiakov
Gallery, Trinity-St Sergius Lavra, Sts Martha and Mary Convent,
Donskoi Monastery, Danilov Monastery,
Ekaterinburg:
Cathedral-on-the-Blood (Ipatiev House), Monastery of the Royal
Martyrs at Ganino Yama, Alapaevsk,
St Petersburg:
Fortress of Sts Peter and Paul, St Alexander Nevsky Lavra, Kazan
Cathedral, St Isaacs Cathedral, Saviour on the Blood Cathedral,
Pushkino (Tsarskoe Selo), Katherine's Palace, Petergorf, Monastery of
St John of Kronstadt, Smolensk Cemetery (Blessed Ksenia), Kronstadt,
Valaam Island, Priosersk, Pskov and Caves Monastery, Vladimir, Murom, Diveevo, Optina Hermitage, Shamardino, Kursk….
Please pass this information on to anyone else you think may be interested.
All the contact details are printed on the posters.
With love in Christ,
Fr Gabriel Makarov