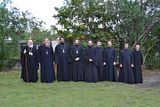 His Eminence Metropolitan Hilarion, First Hierarch of the Russian Orthodox Church Outside of Russia officiated at the celebration of the patronal feast day of the parish of the Holy Annunciation in Brisbane. This event marked a number of historic firsts – firstly, it was the first time that a bishop has served at the parish in 22 years. More importantly, it was also the first time that Metropolitan Hilarion has visited the parish since it was canonically received into the Australian and New Zealand Diocese of the Russian Orthodox Church Outside of Russia from the Orthodox Church of America approximately two years ago. Most importantly, it was also the first time that any bishop of the ROCOR has ever visited or served the parish since its founding in 1974.
In the light of the historical nature of His Eminence's visit, it was with great joy that the rector, Fr Alexander Borodin, the parishioners and approximately 120 visitors from other parishes received His Eminence on this historical occasion. The parish had further reasons to celebrate the visit due to the tonsuring of two of its members Andrew Smith and Thomas Jagels to the minor orders of Subdeacon and Reader respectively. Subdeacon Andrew and Reader Thomas were both assigned to the parish by His Eminence and will assist Fr Alexander in further strengthening and growing the liturgical and missionary life of the parish, which is tasked with providing English-language Orthodox Church services to the people of Brisbane.
At the end of the service, His Eminence expressed his thanks to the members of the Parish Council, the Sisterhood and their helpers for organizing the feast, and paid special compliments to the choir, which was directed by Greg Scanlan and which sang the hierarchal divine liturgy in English beautifully even though it had never had the opportunity to sing for a hierarchal liturgy previously. Fr Alexander Borodin, in return, thanked Metropolitan Hilarion for his great generosity in sharing his time and energies with the parish in celebrating its feastday, especially in light of his very recent successful surgery and the subsequent physical effort required of His Eminence to serve the Liturgy.  Fr Alexander noted Vladyka's active support and deep interest in the successful future of the parish and expressed the parish's sincere gratitude for His Eminence's continued support.
After the service, most of the people who attended the service joined in with the parishioners to share in the agape meal which followed (and which is regularly hosted by the parish on the first Sunday of the month). The parish, being humble and having no hall, hosted the meal in a marquee tent hired especially for the occasion, and in the beautiful Brisbane autumn weather, it seemed to exactly match the warm spirit of Christian love which inhabited all those who attended the service.
Brisbane, Saturday 9 April and Sunday 10 April 2011.