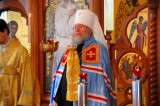 On Sunday 10/23 October 2011, the commemoration of the Holy Fathers of the 7th Ecumenical Council and the Holy Elders of Optino, His Eminence Metropolitan Hilarion, First Hierarch of the Russian Orthodox Church Abroard, served the Divine Liturgy at the Diocesan Cathedral of the Holy Apostles Peter and Paul.
Concelebrating with His Eminence were the Cathedral clergy as well as a visiting hieromonk from Byelorussia and Deacon Martin Naef from the All Saints of Russia Church in Croydon.
After the Divine Liturgy the annual general meeting of the parish took place in the parish hall.