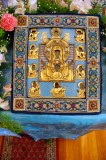 Kursk-Root Icon Visits the St George Parish, Carlton, this Friday, 18th November, 2011
With the blessing of
HIS EMINENCE METROPOLITAN HILARION
Archbishop of Sydney, Australia and New Zealand
First Hierarch of the Russian Orthodox Church Outside of Russia
Location:  Saint George Russian Orthodox Church
15 Garfield St, Carlton, Sydney.
7:00pm: The Supplicatory Canon (Moleben) to the Holy Theotokos and the Blessing of the Five Loaves will be served in English.
8:00pm: A short sermon will be given by Father Kosmas in the Church.
8:30pm: An Akathist to the Kursk-Root Icon will be served in English for those who wish to stay.
For more information call:    (02) 9558 2207