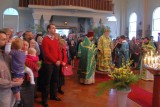 The Great Feast of Pentecost was celebrated at Saints Peter and Paul Cathedral in Strathfield by His Eminence Metropolitan Hilarion, First Hierarch of the Russian Orthodox Church Abroad, together with the cathedral clergy – Archpriest George Lapardin, Priest Simeon Nekipelov, Protodeacon Boris Evstigneev and Protodeacon Alexander Kotlaroff.
At the conclusion of the Divine Liturgy the service of Vespers together with the Pentecost Kneeling Prayers was completed by His Eminence and the above named clergy.
The Kneeling Prayers are available here.