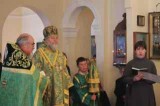 On Saturday the 16th and Sunday 17th June 2012, the feast day of All Saints of Russia, divine services were held in Croydon NSW in honour of the parish's feast day. On Saturday evening, the All-Night Vigil was led by His Eminence Metropolitan Hilarion, First Hierarch of the Russian Church Abroad with parish clergy Fr Michael Li, Fr David Lloyd, Deacon Constantine Moshegov and clergy from neighbouring parishes.
In the early morning the following day, the lessor blessing of the waters was served by Fr Michael Li and Deacon Constantine Moshegov. At 9am the clergy greeted His Eminence Metropolitan Hilarion and the Divine Liturgy commenced. The church was full with the faithful and the choir lead by Lena Kudrin sang reverently. During the Little Entrance, His Eminence awarded Priest David Lloyd the right to wear the nabedrennik. At the end of Liturgy, His Eminence presented the diocesan gramata to Konstantin Petrovich Prokopopov for his many years of hard work in support of the parish.
After the Liturgy, a festal banquet was held in the church hall and the marquee was put up to cater for those that did not fit in the hall. The sisterhood prepared plenty of delicious lenten food and everyone enjoyed the warm hospitality.