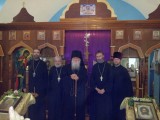 This year, the parish of the Holy Great-Martyr and Unmercenary Healer Panteleimon, in West Gosford on the NSW Central Coast, had services in honour of its patron saint on the Saturday after the feast. On the evening of Friday 10 August All-Night Vigil was served, with the blessing of loaves, wheat, wine and oil. It was a cold and wet night, and there were very few people in church.
The next morning, Saturday 11 August, a moleben with the blessing of water was served inside the church. Archbishop Michael of Geneva and Western Europe then arrived to preside at Divine Liturgy, and was greeted at the church doors by the parish rector, Priest James Carles. Also present were Archpriest Nikita Chemodakov, the Dean of the NSW parishes and Rector of the church of Saint Nicholas in Fairfield; Hieromonk John (Macpherson) from the Holy Trinity Monastery in Monkerai; Priest Alexander Korjenevksi from the parish of Saint George in Carlton; and Protodeacon Alexander Kotlaroff from Strathfield.
The choir sang beautifully under the direction of long-serving conductor Olga Ivanovna Itskison. The service was prayerful and uplifting. Following the customary moleben, Vladyka Michael gave an edifying sermon about the importance of Saint Panteleimon in the lives of the Russian Orthodox faithful. He said that it was his first visit to Australia, and remarked on the warmth of the Gosford parish.
The faithful in Gosford were joined on the day by many friends from Sydney and Newcastle. There were approximately 150 people in church for the service, and around 120 gathered afterwards for a festive lunch at the Niagara Park Community Centre. It was a most enjoyable day. The Ladies' Auxiliary raised much-needed funds from a raffle, the auction of cakes and Russian dolls, and the sale of food. In addition, a generous donation was received from some visitors from Cabramatta. The funds raised will help the Gosford parish purchase new vestments for its altar-servers and candlestands for the church.
Assisting at the service were Subdeacon Nicholas Martinov and his son Michael. Nicholas is one of the most experienced subdeacons in the Diocese, having served in this capacity for over thirty years. Michael recently commenced studies at the Holy Trinity Seminary in Jordanville, New York, the first seminarian from Australia for quite some time. Please remember him in your prayers!