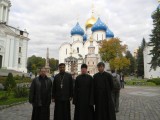 With the blessing of Metropolitan Hilarion, First Hierarch of the Russian Church Abroad and Archbishop of the Australian and New Zealand Diocese, and following the successful establishment of the St Michael the Archangel Russian Orthodox Mission in Pakistan, the Missionary department of the Moscow Patriarchate under Deacon Fr George Maximov invited Mission Director the Rev Adrian Augustus to lecture on missions in Pakistan, its establishment, causes for establishment, its challenges and threats, the need to evangelise, to promote Russian Orthodoxy to one and all,  the importance of support of the Russian Orthodox Church MP and ROCOR, its future and finally the importance of spreading Orthodoxy in Pakistan and most importantly pastoral care to the unfortunate in Pakistan.
These lectures were given due to immense interest that has been generated in Russia on the establishment of a mission such as St Michael the Archangel's Mission which many think is a miracle. Many seminarians in Moscow Theological Academy situated in Holy Trinity Monastery in Sergeiv Posaad, home to the relics of St Sergius, the Abbot of Radonezh, who are interested in missionary work, asked Fr Adrian many questions and many have showed interest in assisting him in his work in Pakistan which will include visits by choirs and to help in pastoral care of the Orthodox in Pakistan.
Metropolitan Georgy Nizhegorodsky of Nizhny Novgorod and Arzamas has offered support in assisting monastic interests from Pakistan while Archbishop Mark of the Department of External Affairs in the Moscow Patriarchate has offered support to train candidates for the priesthood for Pakistan.