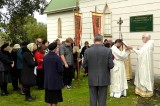 On Sunday 16th June 2013, the feast day of the Holy Fathers of the 1st Ecumenical Council, the Warrnambool Orthodox Mission of the Holy Fathers celebrated its 14th parish feast day.
The Divine Liturgy was celebrated by Archpriest Nicholas Dalinkiewicz and Protodeacon Alexander Abramoff.
After the liturgy the community held a lunch for the visiting clergy and guests.