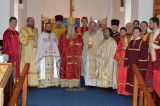 With the blessing of his Eminence Metropolitan Hilarion, the 5th Patronal feast-day of  Saint John of Shanghai and San Francisco Australian Orthodox Aboriginal Mission at Gunning was held on Saturday the 6th of July 2013.
The Hierarchical Liturgy was celebrated by his Grace Bishop George of Mayfield, together with Priests Seraphim Slade (rector), Daniel Metlenko (Centennial Park), Constantine Tzortsis (Kentlyn), Dionysios Halim (Indonesia) and Protodeacon Alexander Kotlaroff (Sts Peter and Paul Cathedral, Strathfield) and Deacon Stephen McKay (Centennial Park).
Bishop George was greeted with a traditional Aboriginal greeting for distinguished visitors.  The greeting with ceremonial music sticks – a gift to Fr Seraphim from Elders of the Jaru nation Kimberly W.A. – was a mixture of Aboriginal and Orthodox monastic melodies.
The Divine Liturgy was sung by two choirs. The St John's Mission Choir conducted by Jim and the Byzantine English Choir which consisted of cantors from various Greek Orthodox Churches.
Bishop George in his sermon encouraged everyone to stay on the straight and narrow path to Christ.  His Grace also remarked, that St. Edmund's Anglican Church in Gunning – where the feast day was celebrated – was almost an exact replica of the Original Church of Saint Edmund in England, where the shrine of this early Western Orthodox Saint is located.