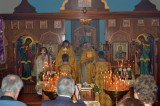 Friday 9 August was the day of commemoration of the heavenly protector of the Gosford parish, the Holy Great-Martyr and Healer Panteleimon. As in previous years, the services to observe this day were transferred to the closest Friday evening and Saturday morning – in 2013, the evening of the feast, Friday 9 August, and Saturday 10 August.
On Friday evening, the All-night Vigil with the blessing of five loaves and wheat, wine and oil was served by the parish rector, Priest James Carles. A large number of parishioners and friends were there, and many took the opportunity to confess in preparation to receive Holy Communion.
On Saturday morning Father James served the Lesser Blessing of Water before the church doors. Afterwards, the Dean of the New South Wales parishes and rector of Saint Nicholas Church in Fairfield, Archpriest Nikita Chemodakov, presided at Divine Liturgy, together with Father James, Priest Dionysios Halim, a priest from the Indonesian Deanery now serving in Kentlyn, and Protodeacon German Polorotov from the Fairfield parish. The church was full, with visitors from Newcastle and almost every parish in Sydney joining the parish faithful.
As is customary, a moleben to Saint Panteleimon was served after Divine Liturgy. After the dismissal, those present were each given a copy of the Akathist to Saint Panteleimon as a blessing from the parish. Anyone who was unable to be present on the day and who would like a copy of the akathist should contact Father James.
A festive lunch was held afterwards a short distance away at the Narara Community Centre, the place in which the Gosford parish held services from 2001 until the opening of the current parish centre in 2004. Approximately 200 people were seated for lunch. The afternoon was a warm and joyful one, and the auctions and raffle a great success. Congratulations and thanks are particularly due to Head Sister Kate Marcotrigiano and her helpers for all their hard work.
In 2014 the Gosford parish will celebrate the ten-year anniversary of the establishment of the church and parish centre at West Gosford, ten years in which a small Russian Orthodox community with occasional services has grown into a lively parish. The feast of Saint Panteleimon will fall on a Saturday in 2014, and readers of this website from across the Diocese are encouraged to join the parish faithful when they celebrate this joyful anniversary in parish life.
All-Night Vigil:
Divine Liturgy:
Lunch: