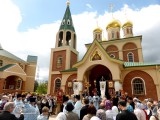 On Monday 14th October 2013, the Holy Protection Cathedral in Melbourne celebrated its Parish Feast Day. The All-Night Vigil was served by the clergy of the cathedral, Archpriest Nicholas Karipoff (rector), Archpriest Nicholas Dalinkiewicz, Archpriest Peter Sheko, Hieromonk Kyril and Protodeacon Alexander Abramoff.
The following day, clergy from the neighbouring parishes joined to serve the Divine Liturgy.
Following the service a lunch was held in the church hall where all the guests from parishes in Melbourne, Dandenong and Geelong attended.