Sunday 18 May 2014
Your Eminence Metropolitan Hilarion, Reverend Fathers, Esteemed Guests, honoured brothers and sisters in Christ,
Christ is Risen!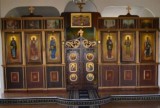 I would like to thank you all for joining your prayers with ours today as we celebrate some very important milestones in the life of our humble parish. A parish is a living organism – an organic whole which is composed of its members living in Communion with Christ and with each other. A parish therefore, lives and breathes, and like any living thing, it also experiences joys and sorrows, phases of growth and consolidation, sometimes even it experiences struggle and pain. We would never say that the success of a human being is always the same as his or her physical health, but rather, what he or she has achieved in their lifetime despite all of the limitations that they face. In life, we see people who have been born into abject poverty or strife, and yet are able to rise and become successful contributors to society and often the converse can be true. To some degree, we can draw the same analogy with parishes.
The success of a parish can be measured in many ways, but perhaps the most appropriate measure is one given to us by Our Lord and Saviour Jesus Christ Himself when He gave His followers the Great Commission – just prior to His Ascension to Heaven where He  "came and spoke to them, saying, "All authority has been given to Me in heaven and on earth.  Go therefore and make disciples of all the nations, baptizing them in the name of the Father and of the Son and of the Holy Spirit,  teaching them to observe all things that I have commanded you; and lo, I am with you always, even to the end of the age.  Amen."  (Matt 28:16-20)
As we have gathered here today for a purpose, I'd just like to give you a brief history of our parish.  I want to do this in a way which I think is both respectful to the people involved, but also truthful in its explanation of a very difficult time in the life of the Russian Orthodox people more generally. I mention this, because I do not think it useful to only speak about positive things, but to see reality as it is. As Orthodox Christians, it is important for us to objectively understand that life in the World is not all sweetness and light, but frequently is full of struggle and hardship – this is not to judge any of the people involved, but simply to illustrate that while we think some things may be very unpleasant for us, God frequently has other plans, and a completely different viewpoint on life – and He creates for us the future we need to have, not the one we necessarily want.
1974
Australia in the early 1970's was a very different time and place to the Australia of today, and likewise, the Russian Orthodox Community of Brisbane was completely different. That was the middle of the Cold War, and Russian refugee migrants from China, most of whom had only been in Australia for about 10 years had by then well-and-truly flooded the parishes of Brisbane, Sydney and Melbourne – overwhelming the European Russians who had previously come at the end of WWII and earlier during the Russian Revolution. It was not uncommon to see tensions and disagreements arise within the Russian community between the different waves of migrants over things that today might seem to us quite unremarkable, but back then were given importance by the people.
It was in such an environment that the Holy Annunciation Orthodox parish was founded in 1974 as a Russian/Slavonic language parish. The parish was founded by Archpriest Gregory Malisheff and other Russian migrants who had been received into the Orthodox Church in America (OCA) from the Russian Orthodox Church Outside Russia (ROCOR). Even before he founded Holy Annunciation Orthodox Church, Fr Gregory Malisheff was noted as an industrious and popular pastor. He had been the rector of the St Seraphim's Parish for many years.  Here, he enlivened the parish greatly, and pursued many construction projects – many of which were with his own hands. As an example, these classrooms were built during his time as rector here. Regrettably, Church politics and strong personalities came to make life exceptionally difficult and Fr Gregory and two other clergymen, Abbot Dimitri Obuheff and Dcn Ioann Bojko from ROCOR in Brisbane, and in 1972 they  petitioned to be accepted into the Orthodox Church in America. While the circumstances of Fr Gregory's  leaving  St Seraphim's and joining the OCA were of an extremely difficult nature, nevertheless, he and a large number of his parishioners quickly established themselves as a thriving parish.
To give an idea of the enthusiasm and energy of those people in those days, a collection was made amongst the parishioners, and by 1974, a house was purchased by the parishioners and converted into a church – this is the church we serve in today.  Fr Gregory himself built the Iconostasis. Can you imagine doing this today?
For a time, things seemed to be going very well for Holy Annunciation Parish. However, the Lord had other plans for Fr Gregory, and in 1976 he succumbed to cancer and reposed in the Lord on Great and Holy Friday in 1976, having served the Matins of the Twelve Passion Gospels the previous evening at the parish he established with great difficulty, but showing extreme fortitude and courage. The story goes that he came home after that service, knowing that it was his last night and that he would not see the Lord's Pascha, and broke the fast in anticipation of that Great Feast. The next morning, as the sisterhood were decorating the Epitaphios stand with flowers, they heard the news that Fr Gregory had passed away. The parish was devastated in losing their beloved pastor. The people were in shock and sadness.
For a time, the spiritual needs of the parish were served by the other OCA priests in Australia, Archimandrite Benjamin (Garshin) and Archpriest Theodore Michaluk, who undertook pastoral visits from Sydney. Also, Priests from the Serbian Orthodox Church also held regular services at the church. Hegumen Dimitry (Obuhoff), previously the rector of Blessed Virgin of Vladimir Parish, Rocklea, was appointed rector of the Holy Annunciation Church but the fact that he lived a significant distance away at Bribie Island made it very difficult for him to be visit regularly.
1980's and a series of Fr Johns
Soon after Fr Dimtri's passing, Metropolitan Theodosius of the OCA appointed Fr John Jillions as rector. He arrived from North America as a newly ordained priest with his Matushka and young children. Fr John had been sent with the directive that he should investigate the possibility of serving in the English language (no other parish had thus far served in English on a regular basis, and especially not on Sundays). He conducted his first service on the Feast of the Protection of the Most Holy Theotokos, 1984 and English came to be a regular feature of the Church services at Holy Annunciation. Thus it was that 30 years ago, the parish became the first parish in Australia to have regularised the use of English (at least in part) during normal Sunday services.
In March 1986, Fr John led the parish council in declaring Holy Annunciation to be devoted to serving in the English language, a declaration that was carried out over the year, and caused Holy Annunciation to be the first Orthodox parish in Australia to serve all services in the English language.
Although a significant number of founding Russian parishioners left the parish (due to a combination of the change of language and a less familiar pastoral approach), other parishioners – particularly young Greek Orthodox people who had been tending to leave the Orthodox Church under the influence of evangelical Protestantism – came to join the parish, and several such young people have come to tell me that it was the existence of this parish that saved them from leaving the Orthodox faith. Some of those young people, who today are not so young anymore, are still very active in their respective parishes – including serving as chanters, on parish councils or even as clergy. Fr John served until his return to the United States in October 1987. Today, he is the Chancellor of the Orthodox Church in America.
Soon after Fr John Jillions, another Fr John – Fr John Bartholomew – was sent by the OCA to serve at the parish and in his brief stint as rector over 1987-88, his focus was on re-enforcing traditional Russian Orthodox practices, including frequent Confession as part of the preparation for Communion. Although his sojourn in Australia was quite short, Fr John Bartholomew's legacy is still remembered in the parish to this day, as is his emphasis on traditional practices of exerting ascetic effort as a key vehicle for the acquisition of salvific grace.
Additionally, it should be said that prior to Fr John Jillion's departure, the OCA hierarchy invited the parishes in Australia to consider a transfer to one of the canonical jurisdictions based in Australia. Moving the parish into the jurisdiction of the Greek Orthodox Patriarchate of Constantinople was discussed at length, but ultimately decided against at a meeting after Fr John Bartholomew's departure.
In 1989, at the request of Metropolitan Theodosius, Bishop Gibran (of the Antiochian Orthodox Diocese) ordained to the priesthood Fr Deacon Ian Bojko. Previously assisting Hegumen Dimitry as subdeacon and deacon at Fr Dimitry's parochial assignments in Geelong and Rocklea; Fr Ian was assigned to be rector of the parish, a ministry he continued while working a secular job as a railway porter and into his secular retirement. I myself, having once worked for Queensland Rail while I was still a young deacon, fondly remember approaching Fr Ian on Platform 10 at Roma St to ask him for his blessing, which he duly gave to me in his porter's uniform, and to the bemused glances of his co-workers ( observing me kiss his hand, they joked "What is this? Is this the Mafia?").  Fr Ian served until ill-health forced his retirement in 2005. Fr Ian remains the longest-serving priest of Holy Annunciation Orthodox Church, having served there for approximately 16 years. Throughout that time, he was quiet and humble, and eminently approachable. We said farewell to Fr Ioann in early 2013, after he passed away after suffering for a long time from the effects of dementia. Some of you may know, but we decided as a parish to name our new office and vestry extension the "Fr Ian Bojko Room" in his honour.
The ROCOR Years
On May 17, 2007, the Russian Orthodox Church in Russia reunited with the Russian Orthodox Church Outside of Russian in an historic Act of Canonical Communion – ending a long period of mutual isolation as a result of the Russian Revolution. Being without a priest, and not having regular services for some years  had led to the parish losing people and to the building itself becoming unsafe and decrepit. Hoping that the reunification might offer hope for the life of the parish, the parishioners approached His Eminence Metropolitan Hilarion, First Hierarch of the Russian Orthodox Church Abroad and Archbishop of Sydney, Australia and New Zealand, with the request to be accepted under his omophorion (jurisdiction) as a missionary parish serving in English. Metropolitan Hilarion agreed to this and on the condition of canonical release being granted by the OCA. After His Beatitude Metropolitan Jonah of the OCA granted this canonical release, it was in May 2009 that the parish was received into the Diocese of Australia and New Zealand (within the Russian Orthodox Church Outside Russia).  Fr John Weir, (the fourth Fr John in a row!) originally ordained as the English-language assistant priest at St Nicholas Cathedral in Woolloongabba, was appointed rector by Metropolitan Hilarion. Thus it has been 5 years since the parish joined ROCOR.
Past, Present and Future united in Harmony This Day
So today, not only do we have great pleasure in welcoming you all in celebrating 3 historic events of the past, 40 years of our parish, 30 years of regular, normalized English services in Australia, and 5 years since reuniting with the Russian Orthodox Church Outside of Russia, but we also celebrate 2 historic events for the present and the future – the ordination of our own Fr Andrew Smith to the priest, and the ordination of Fr Alexander Paramonov to the deaconate. On behalf of myself and all of our parishioners, I warmly congratulate you both your ordinations! May God give you strength and wisdom in your future service to His Holy Church!
Most importantly, I want to thank some people who are tireless workers for the parish, and upon whom we all depend and without whom today's celebrations would never had been possible. I want to sincerely thank our wonderful , dear Sisterhood, who are only two people –  Head Sister Olga Malishev for tireless efforts – baking prosphoras, obtaining vestments for the Church, for general beautification of the Church, and of course for spearheading today's luncheon, and Rita Uspensky, who maintains the cleaning roster, and who makes sure all of the vestments are changed on time in the Church, and who  also assisted in arranging today's luncheon. Our parish sisterhood is an inspiration to us all –  and look – there are only two of them! Please – if anyone wishes to join our Sisterhood – know that they are very welcoming, and easy to work with.
Also, I want to thank the rest of the parish Council for their efforts – you are great team.
Thank you also to you, dear Vladyka Hilarion for not forgetting us, and for coming here to our humble little parish to bless us with your Episcopal Grace. We love you, and wish you could be here with us always. Finally, thank you to all of you our visitors – Reverend Fathers, brothers and sisters in Christ for your attendance and for your joining us unworthy ones in prayer.
Christ is Risen!