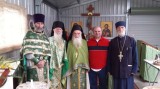 On Monday 9 June 2014 the Holy Trinity Monastery in Monkerai, NSW, celebrated its patronal feast.
On the Sunday of Pentecost, Hieromonk John (Macpherson), superior of the monastery, concelebrated at Divine Liturgy and Vespers with the kneeling prayers at Saint Nicholas Russian Orthodox Church in Wallsend, NSW.  The parish of Saint Nicholas is the closest parish to the monastery.
That evening, Matins for the Day of the Holy Spirit was served in the monastery chapel with Priest James Carles, the rector of the parish of Saint Nicholas, leading the reading and singing on the kliros.
On Monday morning Hieromonk John served the Lesser Blessing of Water on the site of the monastery church, with a small group of the faithful from Saint Nicholas' forming the choir.  Towards the end of this service, Abbot Benjamin (Forbes), superior of the Monastery of the Prophet Elias in Monarto, South Australia, arrived.  Fathers John, Benjamin and James then concelebrated Divine Liturgy, with monastery cleric Reader Daniel Kisliakov leading the choir.
Following the reading of the Holy Gospel Hieromonk John gave a brief sermon.  During Divine Liturgy Archpriest Ljupco Dvojakovski, a cleric of Saint George Russian Orthodox Church in Carlton, NSW, arrived, together with family members and friends.
After the Divine Liturgy, the clergy and faithful returned to the site of the monastery church for a moleben to the Holy Trinity and a procession around the site.  Many years was sung for the church authorities, for Hieromonk John and his brethren, and for all those present, and eternal memory was sung for the departed benefactors and friends of the monastery.
Speaking on behalf of all present, Father Benjamin congratulated Father John on the monastery's feast-day and on all that had been accomplished in establishing the monastery, wishing him continued success.  The clergy and faithful then gathered in the monastery refectory for a festive meal.
Vespers for the Third Day of the Holy Trinity and for Saint Nicetas the Confessor was served at 3.15pm, with Father Benjamin presiding.  This service, like the others that day and on the preceding evening, was in English.  After Vespers, the majority of the guests departed.
May the All-Holy Trinity, our God, grant that this monastery named in His honour prosper and grow!