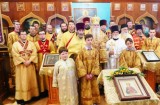 On Friday 8 August and Saturday 9 August 2014 the Gosford parish celebrated the feast of its heavenly protector, the Great-Martyr and Healer Panteleimon, and formally observed ten years of parish life in the small church at West Gosford.
On the Friday evening His Grace Bishop George of Mayfield, Vicar of the Eastern American Diocese, presided at All-night Vigil with the blessing of five loaves, wheat, wine and oil.  Concelebrating were the parish rector, Priest James Carles, together with Protodeacon German Polorotoff (Saint Nicholas, Fairfield), parish deacon Father Martin Naef, and Deacon Vasilli Konstantinidis (Vladimir Icon of the Mother of God, Rocklea, QLD).  The choir sang under the direction of long-serving choir conductor, Olga Ivanovna Itsikson, and many parishioners and friends were present for the service.
On the following morning the parish rector served the lesser blessing of water, assisted by Deacon Constantine Moshegov (Sts Peter and Paul Cathedral, Strathfield & All Saints of Russia, Croydon).  Bishop George presided at Divine Liturgy.  In addition to the parish clergy, five priests and four deacons concelebrated: Archpriest Ljubomir Dvojakovski (Saint George, Carlton), Hieromonk John (Macpherson) (Holy Trinity Monastery, Dungog), Priest Alexander Korjenevski (Saint George, Carlton), Priest Dionysios Halim (Saint John the Baptist Skete, Kentlyn), Priest Simon Nekipelov (Saints Peter and Paul Cathedral, Strathfield), Protodeacon Alexander Kotlaroff (Saints Peter and Paul Cathedral, Strathfield), and the other deacons already mentioned.  A great many people from a number of Sydney parishes arrived prior to Divine Liturgy.
Bishop George gave an edifying sermon on the life of Saint Panteleimon, noting that the renowned Great-martyr and Healer was also the heavenly protector of his own monastery of the Holy Cross in West Virginia, USA.  Following Divine Liturgy the clergy and faithful assembled before the church doors for a moleben to Saint Panteleimon.  After the customary singing of Many Years and Memory Eternal, awards were presented to thirteen parishioners.
A festive banquet was then held at the Narara Community Centre, the place in which the Russian Orthodox community on the NSW Central Coast held services prior to the opening of its church in 2004.  An article about the feast-day in the Russian-language weekly newspaper "Unification" can be viewed here, together with a selection of photographs.