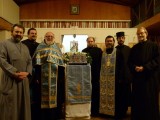 On the evening of Thursday 10 November 2011, the Mission welcomed the wonderworking Kursk-Root Icon of the Mother of God.
It was an incredible privilege to pray before one of the most revered and historically important icons of Russia, and to feel so powerfully the grace of God and the assurance that the Theotokos was indeed praying for and with us.
The service comprised both a short Molebin (prayer service) and the Akathist appointed for the Kursk-Root Icon of the Theotokos.
It was truly a 'Pan Orthodox' event, both in the make up of the large congregation (over 150 people personally venerated the Icon), and by having clergy from four jurisdictions serve: Archimandrite Silouan Fotineas and Fr Konstantinos Skoumbourdis (Greek); Fr Nicolas Haddad (Antiochian); Fr Ambrose Jackson (Serbian); and Archpriest Vladimir Deduhin, Fr Deacon Nicholas Olhovsky (custodian of the Icon during its Australian tour), and Fr Peter Hill, Rector of St Patrick Mission (Russian). Other clergy were present in the congregation during the service. (more…)