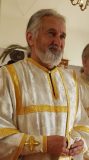 Сегодня рано утром после тяжелой продолжительной болезни отошел ко Господу диакон Симеoн Полоротов, клирик Свято-Николаевского прихода Фэрфилд НЮУ.
Вечная память о. диакону Симеону!
Today early morning, Deacon Simon Polorotov reposed in the Lord following a long illness. Fr. Simon served in St Nicholas parish, Fairfield NSW. We express our deepest condolences and prayers to Matushka Olga, children Ksenia, John and Nicholas and to his extended family.
Memory eternal!