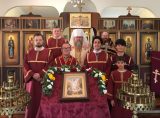 From 11-14 July, we received Metropolitan Jonah (Paffhausen), who was in Australia lecturing at the Residential School for the Sts Cyril and Methodius Orthodox Institute.  In 2019, we celebrate 10 years since our transfer into the ROCOR Diocese of Australia and New Zealand, which we remember was done at the hand of Metropolitan Jonah while he was primate of the Orthodox Church in America.  Therefore, it was with great joy that we were able to celebrate this with his presence.
For the feast of Sts Peter and Paul, we received His Eminence before Vigil, and served the Festal Vigil, with a sermon delivered at the end on the Holy Apostles.  The next day, His Eminence served the Divine Liturgy and gave another sermon.  An impromptu coffee hour was had afterwards, where His Eminence was able to speak informally with members of the community.
On 13 July, His Eminence was able to travel to Toowoomba, to St John the Baptist Orthodox Mission.  His Eminence delivered a sermon at this service, and then during Morning Tea a Q&A session was held, where he spoke on a variety of topics before returning to Brisbane.
On 13-14 July, His Eminence was received at our parish, when he received three inquirers as catechumens, with a short sermon on what it means to be an Orthodox catechumen.  After this, we served Vigil, with His Eminence serving at the Polyeleos.  The next day, His Eminence was received with Entrance Prayers and Vesting before beginning the Divine Liturgy.  His Eminence delivered a sermon at the end; then, after a Morning Tea, fielded another Q&A session.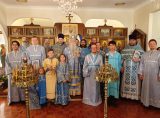 Then two weeks later, on 27-28 July, Holy Annunciation celebrated its parish feastday, with the Synaxis of the Archangel Gabriel transferred to a Sunday.  We had the joy of receiving Bishop George of Canberra to celebrate with us, as well as clergy and parishioners of the Deanery of Queensland.
On 27 July, we served the Vigil service.  Then, on 28 July, Bp George celebrated the Hierarchical Divine Liturgy, including a Processional Moleben (Cross-Procession), with His Grace giving a sermon on spiritual healing.
At the conclusion of the Liturgy, commemorating the tenth anniversary of the transfer of Holy Annunciation Orthodox Church into the ROCOR Diocese of Australia and New Zealand, His Grace distributed Certificates of Appreciation to faithful who had volunteered at our parish for 10 years, and those who were instrumental in the re-establishment and transfer of our parish into our ROCOR Diocese – whose work spanned service in the Choir, on the Parish Council, within Church Beautification, serving at the Altar, and in other ministries of our parish.
Thank you to all those who were able to celebrate our feastday with us, and to all those who made it happen!
Priest Andrew Smith