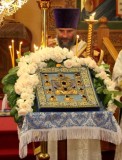 On Sunday 22nd February, Forgiveness Sunday, His Eminence Metropolitan Hilarion celebrated the Divine Liturgy at the Holy Protection Cathedral in Melbourne in the presence of the Kursk-Root Icon of the Mother of God.
Concelebrating with Vladika were Archpriest Nicholas Karipoff (the rector of the cathedral), Archpriest Nicholas Dalinkewicz and Archpriest Peter Sheko with Protodeacon Alexander Abramoff .
Earlier in the service His Eminence elevated reader Dimitri Soupronovich to the rank of sub deacon. During the service the Cathedral Choir sang under the direction of subdeacon Nicholas Kovalenko.
At the conclusion of the Liturgy Vladika Hilarion  made an archpastoral address to the gathered clergy and parishioners and thanked them for their united prayer.