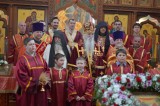 Saint John the Baptist Cathedral celebrated its Parish Feast Day on Sunday 6 July 2015 with the new rector, Bishop George of Canberra, celebrating the Divine Liturgy together with the dean, Archpriest Alexander Morozov, Abbot Sergei and Hieromonk Macarius from Holy Transfiguration Monastery, Bombala, and Protodeacon Alexander Kotlaroff from Saints Peter and Paul Cathedral, Strathfield.
After the procession around the church Fr. Alexander Morozov warmly greeted Bishop George and expressed the hope that Vladika will have many opportunities to serve in Canberra throughout the year.
After the service the parish sisterhood provided lunch in the neighbouring church hall for all present.