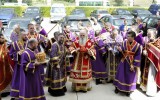 On Sunday 27 December 2015 Bishop George consecrated the side altar of the Holy Protection Cathedral in Melbourne to Saint Xenia of St. Petersburg.
Concelebrating with Bishop George were Archpriests Nicholas Karipoff (parish rector) , Nicholas Dalinkiewicz, Peter Sheko, Simon Kichakov, Gabriel Makarov, Boris Ignatievsky and Priests James Carles, Alexander Paramonov, a guest priest from overseas and Protodeacons Basil Kozulin, Alexander Abramoff and Deacon Mark Woloszyn.
Following the Divine Liturgy there was a luncheon in the church hall with the participants of the Youth Convention and parish members and guests.
Photographs thanks to N. & A. Rudakov