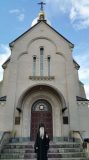 Saint John the Baptist Cathedral in Canberra celebrated its parish feast day on Sunday 10 July 2016. The Cathedral rector, His Grace Bishop George accompanied by Protodeacon Alexander Kotlaroff and 2 sub-deacons arrived in Canberra from Sydney on Saturday, 9 July 2016.
The All-night vigil was served at 5pm by His Grace along with the Cathedral dean Archpriest Alexander Morozow, Abbot Sergei from Holy Transfiguration Monastery, Bombala, Protodeacon Alexander Kotlaroff and Deacon Michael Storozhev clerics of Saints Peter and Paul Cathedral, Strathfield.
On Sunday morning, Fr Alexander Morozow served the molelen with the lesser blessing of the waters and at 9am the clergy greeted the Cathedral rector. During the reading of the 6th hour, Bishop George tonsured Stephen David into a reader then the Divine Liturgy was celebrated.
After the procession around the church, many years was intoned and Fr. Alexander Morozow warmly greeted Bishop George with the feast day. The choir sang gracefully under the direction of Nicholas Morozow. After the service the parish sisterhood provided lunch in the church hall for all present. Following lunch, Bishop George departed to Sydney.