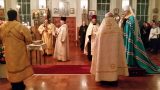 On Friday 14 July 2017 at 5pm AEST the clergy and the youth of the Australian & New Zealand Diocese gathered at Sts. Peter and Paul Cathedral, Strathfield for the Symposium Syezd, in commemoration of the New Martyrs of Russia 100-years later.
At 7pm, His Emminence Metropolian Jonah, His Grace Bishop George, the clergy and the Syezd attendees greeted the relics of the New Martyrs of Russia, brought by mitred Archpriest Michael Protopopov from the Dormition parish Dandenong. A moleben to the New Martyrs was served.
Following the service, His Grace Bishop George welcomed his Eminence Metropolitan Jonah who arrived from Washington DC USA as the guest speaker. Bishop George also greeted the youth and noted the importance of understanding the spiritual struggle carried out by the Royal Martyrs and how important it is for us to live by their example.
Light refreshments were served prepared by the young mothers.