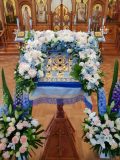 On Friday, 14 December 2018, His Grace Bishop George of Canberra brought the holy Kursk-root Icon of the Mother of God from New York to the Australian and New Zealand Diocese. At 10am the faithful of Sydney parishes greeted the holy icon at the Diocesan Cathedral of Sts. Peter and Paul in Strathfield where a moleben was served.
On Saturday, 15 December 2018 and Sunday, 16 December 2018, the holy icon was present at Sts. Peter and Paul Cathedral Strathfield for the services which were led by His Grace Bishop George. Co-serving with His Grace were the cathedral clergy protopriest George Lapardin, priest Michael Storozhev and protodeacon Alexander Kotlaroff.
At the conclusion of the Liturgy, Fr George congratulated Bishop George on his 10- year anniversary of his episcopal consecration which fell on the 7 December and presented him a Panagia and a Cross on behalf of the parish. Many years was intoned.
That evening, the holy icon visited the 2018 Russian Orthodox Diocesan Teen Retreat held at Stanwell Tops NSW where youth of the Australian and New Zealand Diocese have gathered to spend 5 days learning about the lives of the Saints, praying and the importance of preserving faith. Following the moleben, Bishop George presented a talk on the history of the icon. All participants venerated the holy icon and  received their own copy of the icon.
The Kursk-root icon will be visiting all parishes and monasteries of the Diocese over the next two months.