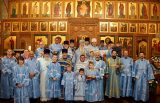 On Sunday, October 20, 2019, Intercession Cathedral in Melbourne, Australia, celebrated the 70th anniversary of the founding of the community. Divine Liturgy was celebrated by His Grace Bishop George of Canberra along with the cathedral's Dean, Mitred Protopriest Nicholas Karipoff and a multitude of clergymen from Melbourne and Sydney. Afterwards, a festive luncheon was offered, attended by over 250 people.
After World War II, many Russian Orthodox immigrants came to Melbourne, who established the Intercession community in 1949. At first, divine services were celebrated in rented spaces, until 1954, when an empty church was purchased in Collingwood. Since the 1970's, parishioners began seeking property to build a large church which could accommodate the growing number of faithful. This process took time, and in 1989, a parcel bought in the Brunswick area was to be the site of the new cathedral. It was consecrated in 2006 by then-Archbishop, now Metropolitan Hilarion, First Hierarch of the Russian Orthodox Church Outside of Russia.
This year marked the 70th anniversary of the parish, and decrees of blessing and gratitude were awarded to various parish members.
Source: Unification