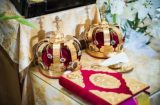 On Sunday 14 June 2020, St John the Baptist Cathedral in Canberra hosted an online panel discussion, via Zoom, on 'The attributes of Christian marriage' as part of its Faith&Wisdom: Family Edition ministry. On the panel was Fr Andrew Smith (rector of The Holy Annunciation parish, QLD), Fr Mark Wolozyn (cleric of The Holy Protection Cathedral, VIC) and moderated by Fr Stephen David (cleric of St John the Baptist Cathedral, ACT).
The discussion began with the panel providing insights into what a Christian marriage looks like with an emphasis on the importance of making God the foundation of the marriage, prayer and the liturgical life.
Almost 40 attendees watched the discussion and asked a range of questions to the panel including: How do you shift a marriage towards Christ if it initially did not start that way? What specific things should couples do to strive for salvation? What to do when you're finding it hard to pray with children.
We would like to thank Fr Andrew and Fr Mark for agreeing to be on the panel and for their insights and advice and to the many people who attended online.
For those who could not attend, a recording of the discussion can be found on the Holy Annunciation Youtube channel here and on the Holy Annunciation Facebook Page here.
We look forward to holding further panel discussions in the future. Details of upcoming events can be found on the St John the Baptist Cathedral Facebook page here.