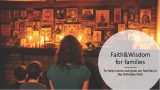 You are invited to join the next and final Faith&Wisdom:Family Edition talk for 2020 hosted by Priest Stephen David, cleric of St John the Baptist Russian Orthodox Cathedral, Canberra.
The discussion will be joined by Archpriest Gabriel Makarov from St Nicholas Cathedral in Queensland, Dr Nadia Crittenden from Sydney and Tania Pye from Victoria.
Topic: Does my relationship with my spouse influence the development and growth of my children? And if so, in what ways?
Date: Sunday, 27 December 2020
Time: 7.30pm (Sydney/Canberra time)
This event will be online via Zoom: https://us04web.zoom.us/j/7191077072…
Meeting ID: 719 107 7072
Passcode: 3kKykm