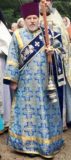 В воскресенье, 14 февраля, отошел ко Господу протодиакон Василий Хадарин. Отец Василий был рукоположен в сан диакона в 1983 году Aрхиепископом Павлом и служил в Покровском храме Кабраматта, в церкви Архангела Михаила Блэктауне и Казанском женском монастыре в Кентлине. Выражаем соболезнования родным и близким.
Тело отца Василия будет доставлено в Покровский храм Кабраматта во вторник, 23 февраля, в 18:00. В среду, 24 февраля, в 8:00 часов будет отслужена Божественная Литургия. Отпевание состоится после Божественной Литургии.
—————————————————————————————————————————————–
On Sunday, 14th February protodeacon Vassily Hadarin reposed in the Lord. Fr Vassily was ordained to the deaconate in 1983 by Archbishop Paul and served at the Holy Protection Church Cabramatta, Archangel Michael Church Blacktown and at the Kazan Convent in Kentlyn. We express our deepest condolences and prayers to the family.
The body of Fr Vassily will be brought to the Holy Protection Church Cabramatta on Tuesday, 23 February at 6pm. On Wednesday, 24 February a Divine Liturgy will be served at 8:00am. The funeral service will be held following the Divine Liturgy.
Memory eternal to the newly reposed.