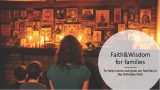 Dear brothers and sisters,
The Holy Annunciation parish in QLD will be holding its next Faith&Wisdom: Family Edition talk online where we will be discussing the topic: Technology and the family: Friend or Foe? In our current technological age, we are inundated with devices that are designed to make our lives easier. But what are the impacts of this technology on the family unit and what is the right balance for Orthodox Christians?
Details as follows:
Date: Sunday 1 August 2021
Time: 7.30pm to 9pm
Zoom link: https://us02web.zoom.us/j/82470517230
We are blessed to be joined by a panel of guest speakers: Fr John Vesic, V. Rev. Fr Nemanja Mrdjenovic and Vladimir Yastreboff who will be discussing some of the issues around managing the use of technology in the home and its impact on our relationships within the family unit.
There will be plenty of opportunity to ask the panel questions through the Zoom chat or in person.
God bless you all and we hope to see you then.
Fr Stephen David