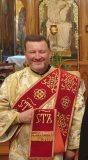 Со скорбью сообщаем что 30 января 2022 г. на 58-м году жизни oтошел ко Господу протодиакон Константин Мошегов.
Отец Константин закончил Сиднейский университет медицинский факультет, потом работал на практике лечащим врачом, затем стал специалистом-офтальмологом, глазным хирургом.
В 2007 году в праздник Сретенье Господне, Архиеп. Иларионом, иподиакон Константин был рукоположен в сан диакона и служил в храме Всех Святых в Земле Русской Просиявших в Кройдоне и в Петропавловском кафедральном соборе в Страдфилде.
Отец Константин был очень внимателен, добр, великодушен и  проявлял большую любовь ко всем.
Выражаем наши глубочайшие соболезнования матушке Наталии, детям Софии, Юлиану и всем родственникам.
Вечная память дорогому о. протодиакону Константину!
---
It is with deep sadness we advise that on 30 January 2022, Protodeacon Constantine Moshegov reposed in the Lord.
Fr Constantine received his medical degree from Sydney University and initially worked as a general practitioner, later qualifying as an ophthalmologist.
In 2007 on the feast day of 'The Meeting of the Lord', Fr Constantine was ordained a deacon by Archbishop Hilarion and served in All Saints of Russia Church, Croydon and in Sts Peter and Paul Cathedral, Strathfield.
Fr Constantine was attentive, kind, generous and demonstrated much love for everyone.
We express our deepest condolences and prayers to matushka Natalie, children Sophia and Julian and to his extended family.
Memory eternal dear Fr Constantine!