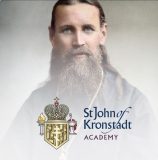 On Sunday 14 August 2022 at Sts Peter and Paul Cathedral Strathfield, Fr Stephen David from Holy Annunciation Russian Orthodox church in Brisbane will present on a project to establish the first classical Orthodox school in Brisbane – the St John of Kronstadt Academy.
This will be a great opportunity to hear about the aims and objectives of the Academy, what 'classical education' is and how you can support this effort to establish the first Orthodox school in Queensland.
The presentation will be given following the Divine Liturgy.