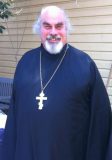 Сегодня, в день чествования Владимирской иконы Божьей матери, в пять утра, после продолжительной и тяжёлой болезни, дома, в окружении семьи отошёл ко Господу наш дорогой Отец Давид Ллойд. Отец Давид за несколько дней до кончины причастился и вчера был соборован владыкой.
Мы передаём глубокое соболезнование матушке Вивиан, сыну, дочери, внукам и всем родным и близким отца Давида.
Нас утешает, что в такой день, под покровом Божьий Матери, которой отец Давид верно служил в нашем храме на протяжении многих лет, он тихо и мирно отошёл ко Господу.
Первая панихида состоится в Покровском храме Кабраматта сегодня в 5 часов вечера.
Детали отпевания мы опубликуем как только это будет известно.
Просим всех молиться за упокой новопреставленного иерея Давида.
Вечная память дорогой отец Давид.
———————————————————————————————————————————–
At 5am this morning, after a long battle with illness, on a day our church celebrates the Vladimir icon of the Mother of God, at home with his family our dear Fr David Lloyd reposed in the Lord.
In recent days Fr David received Holy communion and the service of Holy unction was conducted yesterday by our bishop.
We pass on our deepest condolences to Matushka Vivian, his son, daughter, grandchildren, to all his relatives, friends and loved ones. We are consoled that Fr David was reposed peacefully and quietly under the loving protection of the Most Holy Theotokos in whose temple he served faithfully and with great sincerity for many years.
The first panikhida will be served at the Holy Protection Church Cabramatta this evening at 5pm.
Details of the funeral will be shared once available.
Please keep the newly reposed servant of God priest David in your prayers.
Memory eternal dear Fr David.