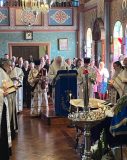 On Monday, 19 September 2022, the funeral service for priest David Lloyd took place at the Holy Protection Church Cabramatta, NSW. The service was led by His Grace Bishop George of Canberra and co-serving with His Grace were eight priests and three deacons from the NSW deanery.
In accordance with the funeral service for a priest within the Russian Orthodox Church, the service included the chanting of psalms and various hymns, the reading of the canon for the departed, and the reading of five epistles and five gospels. Towards the end of the service a prayer of absolution was read. Fr David was laid to rest at Pinegrove Memorial Park cemetery at Minchinbury.
Fr David was born 2 February 1952 in Sydney, the only son of James and Marjorie Lloyd.  His father James was an Anglican and his mother Marjorie was a Methodist.  Fr David was introduced to the Russian Orthodox Church as a young man through his step-grandfather's sister, whose husband was of Russian descent. Fr David took interest in Orthodoxy and was baptised as a young man.
At the age of 27, Fr David met his matushka Vivian while on a holiday at Norfolk Island. They married on 15 June 1979 at Sts Peter and Paul Russian Orthodox Cathedral, Strathfield and had two children, Svetlana and Alexander.
Fr David worked as a Registered Migration Agent for approximately 30 years and assisted many families and individuals over the years migrate to Australia, one of whom, was Fr Michael Li of Blessed Memory who migrated to Australia from China.
Initially Fr David attended the Holy Protection Church, Cabramatta then later St George Church, Carlton where he was on the Parish Council and served as an altar boy with Frs Nikolai Starikov and Mikhail Konstantinov as rectors.
Fr David was ordained to the diaconate on 21 November 2007 and ordained to the priesthood on 26 January 2008 at All Saints of Russia Church Croydon. Following his ordination he was assigned to serve at St Michael the Archangel Church Blacktown.
From 2010 – 2011 Fr David worked on Christmas Island at the Head Office of the Australian Immigration Detention Centre assisting asylum seekers. There he was a Chaplain for the duration of his stay. When Fr David returned to Australia in late 2011, he served in All Saints of Russia Church Croydon then in February 2012 he was appointed as the second priest to Holy Protection Church Cabramatta where he remained until his illness in 2021.
We express our deepest condolences and prayers to matushka Vivian, his children and grandchildren.
Memory eternal dear Fr David!