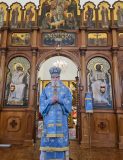 On Sunday, 25 September 2022, the Apodosis of the Nativity of the Theotokos, His Grace Bishop George of Sydney, Australia and New Zealand, celebrated his first Divine Liturgy as the ruling bishop of this diocese at Sts Peter and Paul's Cathedral in Strathfield. Co-serving with His Grace were the cathedral clergy.
Following the dismissal of the Divine Liturgy, the Ukase from the Council of Bishops of the Russian Orthodox Church Outside of Russia, appointing Bishop George as the seventh ruling bishop of the Australian and New Zealand diocese was read and many years was intoned.
His Grace requested the congregation keep him in their prayers and provide him support in his work as the ruling bishop of this diocese. Fr George Lapardin, the dean of the cathedral congratulated Bishop George on his appointment and wished him strength and patience and asked him to keep all of us in his holy prayers.