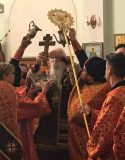 On Monday, 26 September 2022, the eve of the feast of The Exaltation of the Life-Giving Cross, His Grace George, Bishop of Sydney Australia and New Zealand celebrated the All-night vigil at Sts Peter and Paul's Cathedral, Strathfield. Co-serving with His Grace were the cathedral clergy.
During the Great Doxology, Bishop George wearing all vestments carried the Cross to the middle of the church and the rite of the Exaltation of the Cross was served.
The rite of the Exaltation of the Holy Cross was established in Jerusalem shortly after the finding of the Cross by Saint Helena, the mother of Emperor Constantine in memory of that event and also the restoration of the Church of the Holy Sepulchre in Jerusalem.
The rite of the Elevation of the Cross is a special service which is usually performed by a hierarch at a cathedral. The Cross is raised five times facing East, West, North, South and East again. Five petitions are read by a deacon prior to the Cross been raised and after each of them "Lord, have mercy" is sung and the Cross is washed with rose water during the Exaltation.
On Tuesday, 27 September 2022, His Grace served the Divine Liturgy at the same cathedral.