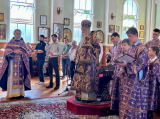 On 5th March 2023, the first Sunday of Great Lent, the feast of Orthodoxy, His Grace Bishop George of Sydney, Australia and New Zealand celebrated the Divine Liturgy and the Rite of Orthodoxy at Sts Peter and Paul Cathedral in Strathfield. Concelebrating with His Grace were the Cathedral dean, Archpriest George Lapardin, Protod. Alexander Kotlaroff and Protod. Martin Naef. The choir was led by Andrei Laptev with great inspiration.
Following the communion, Bishop George greeted the faithful on the feast and brought to mind that on Sunday of Orthodoxy, we hear the true teachings which lead us to Christ, lead us to eternal salvation, versus the false teachings which have been promoted by either the idea of man or the evil one, trying to draw mankind away from God. Let us remember and appreciate those who laboured and struggled and died for the truth and promoted the veneration of the icons. Let us remember them in our prayers so we can also follow them in their footsteps and continue to stand firm for the truth of Orthodoxy.
Following the Divine Liturgy, the Rite of Orthodoxy was proclaimed.