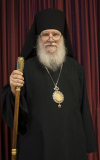 At 7:45am on Saturday, 13 May 2023, His Grace Bishop Luke of Syracuse, Vicar of the Eastern American Diocese and Rector of Holy Trinity Seminary in Jordanville arrived in Australia.
Bishop Luke was invited by His Grace Bishop George of Sydney Australia and New Zealand to participate in the festivities marking the 100 year anniversary of St Nicholas Cathedral in Brisbane scheduled for 27th and 28th May.
Bishop Luke was greeted at Sydney airport by Bishop George and Archpriest George Lapardin dean of Sts Peter and Paul Cathedral, Strathfield and made their way to the diocese where a short Thanksgiving moleben was served followed by breakfast. During breakfast the hierarchs discussed matters between the two Diocese and the schedule for the upcoming week.
Below is the schedule where Bishop Luke will celebrate the divine services:
– 13th and 14th May – Sts Peter and Paul Cathedral, Strathfield
– 20th and 21st May – Holy Protection Cathedral, Melbourne
– 27th and 28th May – St Nicholas Cathedral, Brisbane
Bishop Luke's biography can be read here