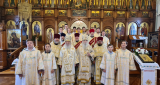 On 13th May 2023, His Grace Bishop Luke of Syracuse, Vicar of the Eastern American Diocese and Rector of Holy Trinity Seminary in Jordanville arrived in Australia to take part in the celebrations of the 100-year anniversary of the founding of Saint Nicholas Cathedral in Brisbane, Queensland.
Our long-awaited guest flew into Sydney airport on a crisp and cool autumn morning to be greeted by His Grace Bishop George of Sydney Australia and New Zealand and other clergy.
That evening Vladyka was welcomed by the clergy and parishioners of Saints Peter and Paul Cathedral in Strathfield where he concelebrated at the All-night Vigil and the hierarchical Divine Liturgy the next morning together with Bishop George and Cathedral clergy. At the end of the Divine Liturgy, a litya was served in memory of Metropolitan Hilarion's upcoming anniversary of his repose.
A luncheon followed in the church hall where Bishop Luke gave an interesting talk about Holy Trinity Monastery and Seminary.
After lunch he was shown some of the popular sites of Sydney Harbour.
The next day Bishop Luke travelled up to the Blue Mountains to explore the unique Australian landscape. Leaving the bush at dusk, Bishop Luke was greeted by a wild kangaroo that stopped in close view and curiously gazed at our American visitor.
On Tuesday the 16th of May, Bishop George and Bishop Luke visited the Convent of our Lady of Kazan in Kentlyn, where after the Divine Liturgy they served a Panihida in memory of the late Metropolitan Hilarion marking the one-year anniversary of his repose. Abbess Maria extended a warm welcome with bread and salt, and a festive breakfast after the Panihida.
After being given a tour of the convent, Vladika paid a visit to the Skete of Saint John the Baptist nearby, where he was met by Abbot Joachim.
Within just a short drive from the skete he was shown the Church of the Parish of The Holy Protection of our Lady in Cabramatta.
Photo report